Essay Assignment
The Cultural and Intellectual Community Program Council (CICPC) selects the annual intellectual theme, funds related programming during the academic year, and selects the summer reading book, which begins our year-long exploration of the intellectual theme.  The theme for CICPC sponsored programs in 2015-2016 is "College and Change".  Faculty, staff, and students from around the college will present speakers, film series, performances, and other events related to the theme.
College is a place of personal transformation for students, and college prepares students for success in their future lives. But immersion in a campus culture also shapes a student's place in the world, socially and ecologically. What can students learn in college that will help them become responsible agents of change in society and in society's relationship to the nature world? In The Nature of College, James Farrell writes, "College education isn't just classes, papers, and GPAs. It's also an open invitation to engage designing minds, first in understanding the designs of nature, second in understanding the culture of nature, and finally in designing a culture that enriches nature's health and our own deep fulfillment." To fully appreciate the possibilities of the college experience, we might look to environmentalist David Orr's words and envision our college as a place where students gain the capacity to design the future.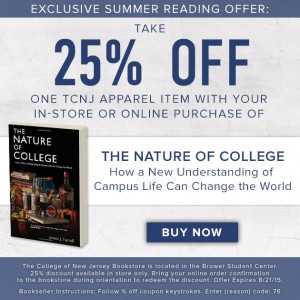 The Nature of College was selected as the summer reading text because it embodies the theme "College and Change".
With the theme "College and Change" in mind, please be prepared to discuss The Nature of College with your fellow students and a faculty/staff facilitator in your Summer Reading discussion group on August 24, 2015.
In order to prepare for your discussion, please write a response of at least 200 words to all three questions that follow these instructions.  Your short essays should show evidence of your thorough grasp of the book, but you should not quote at length. You will post these responses by Monday, August 10, to a discussion board on the campus learning management system Canvas.  Additional specific directions will be posted on the Summer Reading Program website by August 1st.
Furthermore, you are also required to comment on at least three other students' essays (at least one in each discussion forum) in a substantive way (at least 100 words), by Saturday, August 15. Please select a student who has not received feedback for your comments rather than responding to the first entry you read.  Also please do not make grammatical comments; your goal is to focus on the ideas discussed by other students rather than the writing quality. You will want to write your response and your comments in a word processing program and then paste your work into CANVAS.
Your writing and participation in the summer reading program should be consistent with the standards of academic writing and integrity. Please indicate the page number for any quotation. In your responses to other students, please be respectful, as you would be in any academic setting. In college, you will encounter students of various backgrounds, communities, and viewpoints. Part of college is learning how to disagree in a polite and constructive way that promotes dialogue.
---
Essay Questions
1) Imagine the world in which you would like to live and work twenty years after college graduation. What do you need to learn in college in order to contribute to the changes needed to build this world? Frame this essay as a letter to your TCNJ professors. Use terms from the ecologician's dictionary, which appear throughout Farrell's book.
2) In what ways does Farrell's book challenge your expectations of college life and your own role as a college student? How does the book help you identify specific ways in which college students can instigate crucial and fundamental cultural change?
3) Farrell argues that every action you take has an impact on the environment. As a citizen of Earth, discuss the implications of one action you've taken since you got up this morning and consider whether those implications are consistent with your values.