Summer Reading 2020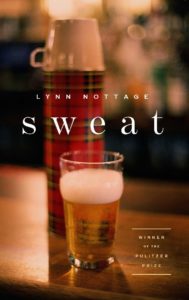 The summer reading text for the class of 2024 is Lynn Nottage's Pulitzer Award Winning Play Sweat. This play was chosen as part of next year's Cultural and Intellectual Community Council's [CICC] intellectual theme, "Visibility".
Our annual Community Learning Day and Teach-In will be held on September 2nd. On that day we will offer workshops on topics related to the theme as well as the opportunity to see a production of the play (on-line).
In Sweat, Nottage explores issues that are front and center in American discourse through the examination of a community struggling with economic decline. While these communities are in many ways the backbone of America, their voices are not always heard.
With this year's theme of Visibility, TCNJ is asking whose voices are heard, whose are silenced, which voices are privileged and which are undervalued? As we approach another election, we recognize that many of our students will have their first opportunity to vote for our highest office. We hope that this play opens up discussions that will help engage our students' curiosity about who we are as a country and encourage them to be open to all voices. We want our students to really see one another and invite new possibilities as they welcome visibility from one another and claim it for themselves.
We invite the campus community to organize and participate in this dynamic and meaningful programming under this unifying concept.
In selecting Lynn Nottage's Sweat as the summer reading text for the graduating class of 2024, CICC recognizes that each of our incoming students arrives with a worldview influenced by their individual lived experiences. Our students' identities are unique and varied, yet similar in that they all likely come with some degree of privilege and pain. We hope that this shared reading will contribute to understanding, compassion, and love for one another as the class of 2024 begins this journey together. We expect students and facilitators will have meaningful conversations that bridge both disciplinary and personal divides.
The Summer Reading Program discussions will take place on the afternoon of Monday, August 24, 2020.
Instructions for submitting your response to the play can be found on Canvas in your SRP 099 course.
Summer Reading Archive
View Archive