R. Barbara Gitenstein, President
I am pleased to welcome you to The College of New Jersey community. Your participation in our Summer Reading Program is a first step in your career at the College and should help prepare you for our challenging and engaging academic environment.
The College is a values-based institution that seeks to provide a context in which you will learn and grow. As an institution, we value our past and encourage you to do the same; we also honor our responsibilities to the state and nation and we insist that you do so as well. These responsibilities cannot be met by only looking backward; we must also look around and look ahead. I encourage you to take advantage of the opportunities that will present themselves throughout your time on the campus. In the short time you will spend with us you will further develop your passions and will have the chance to develop new ones. Now is the time to discover the impact you can make on the world. Like the institution that you have joined, your experience at The College of New Jersey is contextual. You will learn from others and they from you; you will learn from their pasts and they from yours.
As a consequence of this contextual learning, you will come to understand your past better. This greater understanding will result in great changes for you and for the larger community in which you live, changes that continue to position us to thrive in the twenty-first century. As a community dedicated to free inquiry and open exchange, we seek to help nourish the development of our students to become leaders in our complex and diverse world by providing a supportive environment in which to challenge each other and ourselves intellectually.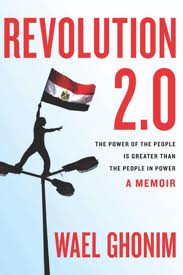 Wael Ghonim's Revolution 2.0: The Power of the People is Greater than the People in Power has been selected as this year's Summer Reading. The Summer Reading is a part of the College's annual series of intellectual and cultural programs designed to engage our community in discussion around a selected theme. The theme for this year is "Freedom and Tyranny." As part of Welcome Week, you and your peers will have an opportunity to examine Ghonim's book in a discussion led by a faculty/staff facilitator on August 27, 2012. You will receive complete Summer Reading instructions at the time of Summer Orientation in July. They will also be posted at this site.
Again, welcome to the community of The College of New Jersey. I hope you will take full advantage of what the College has to offer you, and what you have to offer our community.
---
Essay Assignment
This year's Summer Reading is Wael Ghonim's Revolution 2.0, published in 2012 about the uprisings in Egypt during 2012 and the role of social media in making that happen.
With the theme of "Freedom and Tyranny" in mind, please be prepared to share your responses to Revolution 2.0 with your fellow students and faculty/staff facilitator in your Summer Reading discussion group August 27.
In addition, please write a two page essay of at least 500 words that addresses one of the questions following the quotation:
"I felt the stirrings of a rare opportunity to make a difference and to combat oppression and torture. I was angry, and I was not the only one. On its first day, 36,000 people joined the page. Some of them wanted to learn more details about the case, some sought to offer sympathy and support, and others joined out of curiosity because they had received an invitation from a Facebook friend. Images of Khaled before and after the assault spread like wildfire. Similar crimes had taken place in the past, all too frequently, yet their stories had not spread too widely. It was the visual documentation of Khaled's terrible death, along with the fact that he was from the middle class, that catalyzed this huge reaction. The image was impossible to forget, and thanks to social media, it was proliferating like crazy."
–Wael Ghonim, Revolution 2.0: The Power of the People is Greater than the People in Power
Write a two page essay of at least 500 words that addresses one of the following questions:
The quotation from Ghonim suggests that social media provided an opportunity for him to direct his anger toward injustice in a way that could mobilize people to action rapidly. After reading this book, and reading about recent elections in Egypt, what difference do you believe social media made in the outcome of the Egyptian revolution? Did social media have a lasting effect?
Ghonim's comment also suggests powerful things about the effects of class on the consumption of information through social media. He suggests that Khaled's death was more disturbing to Egyptians because he was middle-class. In your experience does a person's social class position have a similar effect in the United States?
Consider the effects of social media on your own social or political awareness. In what ways has your own understanding of your community or your world been influenced by your consumption of and participation in social media? To what extent do social media filter your experience of the world (the way that you receive news and information about current events—either private or public)? Can you compare it to the situation in the book where Egyptians had few outlets for information that was not state-mediated? You might discuss your use of social media with your parents or other community members to gain an awareness of how social media has changed the notion of community.
How would you assess conditions for 'freedom' in Egypt a year and a half after the successful ousting of Egyptian President Hosni Mubarak? What are the implications of the dissolution of parliament by the Egyptian 'high court' and the continued dominance of the army in 'governmental' matters? Does the election of a member of the Muslim Brotherhood as president complicate matters? Explain how these events sustain, move forward, or impede the cause of freedom in Egypt.
Instructions for submitting your essay electronically: Please submit your summer reading essay electronically to liberal@tcnj.edu. The subject heading of the message MUST be your full FSP course number followed by your last name. For example, John Smith taking FSP 101-01 would send an email to liberal@tcnj.edu with the Subject Heading:
FSP 101-01 Smith
You must use your official TCNJ email account and you should send it as soon as possible, but no later than August 20th. Please also bring a hard copy to your discussion session on August 27.
Please note: We will be using the Houghton Mifflin Harcourt hardcover edition of Revolution 2.0. It will be available at the College Bookstore, but you are free to purchase it anywhere—ISBN 978-0-547-77398-8. You may also read it in an electronic version or, if it is available, in a paperback edition, of course.
Summer Reading Program Frequently Asked Questions (FAQ)
Who chose this book?
The Cultural and Intellectual Community Planning Council, a college committee made up of faculty, staff, and students chose the book. It is an engaging book that addresses both this year's Intellectual theme of "Freedom and Tyranny" and the emerging role of social media in shaping societal change.
Why does TCNJ have an "Intellectual Theme" every year?
The Intellectual Theme provides a unifying framework to events on campus: film series, lecture series, art exhibits, and art performances. One part of the college experience is learning to take advantage of extra- and co-curricular events. You are all strongly encouraged to attend the events of Community Learning Day, and some of you will be required as part of your major to attend a number of events. Nonetheless, the habit of seeking out intellectual engagement across a variety of topics, not just within your own field, is central to your experience as a student and as an intellectual.
Why is there a summer reading?
The first-year class rarely has an opportunity to share a common intellectual experience. The Summer Reading Program is designed to provide an intellectual touchstone to kick-off your first year as part of a thoughtful community of life-long learners who value cultural diversity and the spirit of free inquiry. In addition, the summer reading program allows you to meet faculty and staff from across the college. We want all of you to have an experience reading a serious book about current events, or about issues of current relevance, that complements the experiences in your living/learning community. In addition, we hope that discussions of this book will help to awaken you to the joy of learning for its own sake, outside of the processes of grading and credentialing that has become so important for most college students.
Will I get a grade on my essay?
Although completing a satisfactory essay is a requirement of the summer reading program, you will not receive a grade on it and it will not appear on your college transcript. Students whose essays are found unsatisfactory may be required to do additional work or participate in next year's summer reading program.
Your essays will be forwarded to the facilitators for the discussion groups for the Summer Reading Program and you might receive written feedback on your writing. Many of these facilitators will also be First Seminar instructors. While your essay will be retained for potential assessment efforts on campus, you aren't writing the essay for the purposes of an 'assignment' in the traditional sense. You will discover in your first year of college that people learn best when they use all their intellectual faculties—reading, writing, speaking. The purpose of the essay is to give you an opportunity to think critically about the book and to prepare you to speak confidently about it in your discussion session and with your peers prior to the discussion.