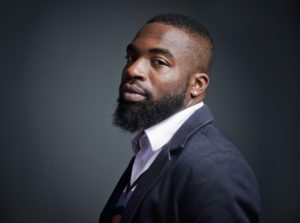 The summer reading text for the class of 2023 is Darnell Moore's No Ashes in the Fire: Coming of Age Black and Free in America. The book was chosen as part of next year's Cultural and Intellectual Community Council [CICC] intellectual theme, "#ClimateMatters: Listening, Reflecting, and Acting". Moore will be the featured speaker on Wednesday, September 4, 2019 at noon in Kendall Hall as part of an all campus teach-in — Community Learning Day: Going beyond the Summer Read.
A key part of the mission at TCNJ is inclusiveness and "#ClimateMatters: Listening, Reflecting, and Acting" is intended to promote campus-wide discussions that focus on the lived environment on campus. It is about our local community, composed of highly talented students, faculty, staff and alumni. We all come from different backgrounds and bring our own unique stories.  In this climate we are free to grow, challenge ideas and develop professional identities. It is in this climate where we can listen to different perspectives and engage in conversations that urge us to expand our perspectives on the world.  It is in this climate where we can reflect on our past experiences and question our own biases.  And, it is in this climate where we can take action when we are confronted with injustice. We invite the campus community to organize and participate in dynamic and meaningful programming under this unifying concept.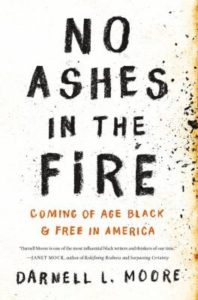 In selecting Darnell Moore's No Ashes in the Fire: Coming of Age Black & Free in America as the summer reading text for the graduating class of 2023, CICC recognizes that each of our incoming students arrives with a worldview influenced by their individual lived experiences. Our students' identities are unique and varied, yet similar in that they all likely come with some degree of privilege and pain. We hope that this shared reading will contribute to understanding, compassion, and love for one another as the class of 2023 begins this journey together. We expect students and facilitators will have meaningful conversations about the experiences of how personal history impacts our current reality. We believe these conversations will also highlight another of TCNJ's core values: "Inclusiveness."
The Summer Reading Program discussions will take place on the afternoon of Monday, August 26, 2019. Below are instructions for how to respond to the book. All students should be prepared to discuss your reactions to the text at your assigned discussion time.
Response Instructions
STEP 1: Read and Respond
In order to prepare for a faculty or staff led discussion with your peers, choose one of the following prompts for your response. You may respond in one of several ways. A traditional essay of approximately 500 words is acceptable. You may also choose an alternate format such as a visual art project, photo essay, poetry, a music playlist, or a video response. If you choose an alternate format, your response must be accompanied with a brief explanation of the  connection to the book and chosen prompt.
Summer Reading Essay Prompts:
Much of Moore's story is influenced by looking into his past. This includes exploring the lives of his parents. Many of us only see our parents or caregivers from our own egocentric perspective — they are there for us. What do you know about the people who raised you beyond the task of raising you. What do they love? How do they see themselves? What were their hopes and dreams when they were your age? If you don't know — ask.
What did you read in your K-12 schooling experience that reflected how you see yourself or who you hoped to be? Discuss what you read and how it influenced or had an impact on you.
Masculinity is often defined for us by society and the people close to us. Throughout Darnell Moore's life he had many experiences where he had to act more "masculine" to feel acceptance within his relationships, neighborhood, college, and family. How does Darnell Moore's memoir help us improve our understanding of masculinity in modern society?
TIP: When quoting text, please add the page number in parenthesis.
STEP 2: Post your response
Your response must be posted to the SRP-099 discussion board in the college's course management system, Canvas, after July 10, 2019 and no later than August 16, 2019.
Optional: In addition to posting your written response, you are encouraged to use FlipGrid to post a short (less than 2 minute) video of your response to the book. The video is meant to add your voice to your response and be a fun way to interact with your classmates. If your formal response is a video, use FlipGrid to talk about how your idea came to be similar to a movie director's commentary or an album's track commentary.
STEP 3: Respond to others
Once you have posted your response (and optional FlipGrid video), please read or view at least three entries from other students and share your thoughts with them. Your response to your colleagues should be of substance. Ideas include (but are not limited to); 1) sharing how your opinions complemented or contradicted; 2) something that this response made you think differently about; 3) connections you may have made with this person's response. You can respond to both formal entries and FlipGrid videos.
---
Workshops
September 4th, 2019

10:00am
Queer Images in Film – Education 113
Stress and Well-Being – Education 109
Black Lives Matter – Guiding Principles of the Movement – Education 204
Trauma and Grief – Education 204
Identity and Transitions to College – Education 206
"LGBTQ+ in K-12 Literature" – Education 113
Panel Discussion
Privilege in Professional Settings
September 4th, 2019
Time: 4:00pm – 5:30pm
Location: Spiritual Center